Tickets for our Upcoming Event currently unavailable, we are still working on building the tickets and will make them available as soon as we can.
We're thrilled to host the inaugural "Jazz by the Lake", a unique blend of music, nature, and culture set against the stunning backdrop of Lake Moogerah, in the heart of the Scenic Rim. As the sun begins to set on 9th September, the air will hum with the rich, mellow notes of jazz, performed by renowned artists Aaron West and the Custodians, and the legendary Louie Shelton. As you let the music and the cool spring breeze soothe your soul, explore a great selection of market stalls and indulge in some delicious food. From the moment the gates open at 3pm, prepare yourself for a truly unique celebration of jazz. This isn't just another concert – it's an extraordinary convergence of sounds, sights, tastes, and Spring in the beautiful Scenic Rim.
3pm to 7.30pm
3 pm: Gates Open
4 pm: Aaron West and the Custodians
5:15pm – 5:45pm: Break
5:45pm – 7:15 pm: Louie Shelton
7:30 pm: Finish
Tickets $35
Tickets are all $35. No concessions. Kids under twelve are free. Limited tickets available – book early to avoid disappointment. 
Food & Market Stalls
There'll be a range of market stalls and food options available, including gourmet picnic hampers. If you're interested in bringing your stall to our event, please get in touch.
Living Water Road, Lake Moogerah
Artists
Join us for an evening of extraordinary music, featuring a stellar lineup of two incredible acts: the legendary Louie Shelton, whose signature guitar riffs have defined numerous hit records across decades, and the multi-talented Aaron West and the Custodians. An homage to the rich traditions of jazz, blues, and soul, this event showcases Shelton's iconic talents, as well as West's passionate exploration of African-American music styles and vibrant New Orleans sound. Experience the wonder of jazz as they fill the spring air with heart, soul, culture, and creativity.
Louie Shelton
Over the past several decades you would have heard Louie Shelton's signature guitar riffs and solos on more hit records than any other session guitarist in history. While there are too many to mention, some of his classics include, Boz Scaggs' "Low Down", Lionel Richie's "Hello", Neil Diamond's "Play Me", The Jackson Five's "I Want You Back", "ABC" and "I'll Be There, The Monkees' "Last Train To Clarksville" and "Valerie". Some of the other artists Louie recorded with include John Lennon, Whitney Houston, Barbra Streisand, Marvin Gaye, Diana Ross, The Carpenters, Joe Cocker, Kenny Rodgers, The Mamas & Papas, James Brown, Ella Fitzgerald and many others.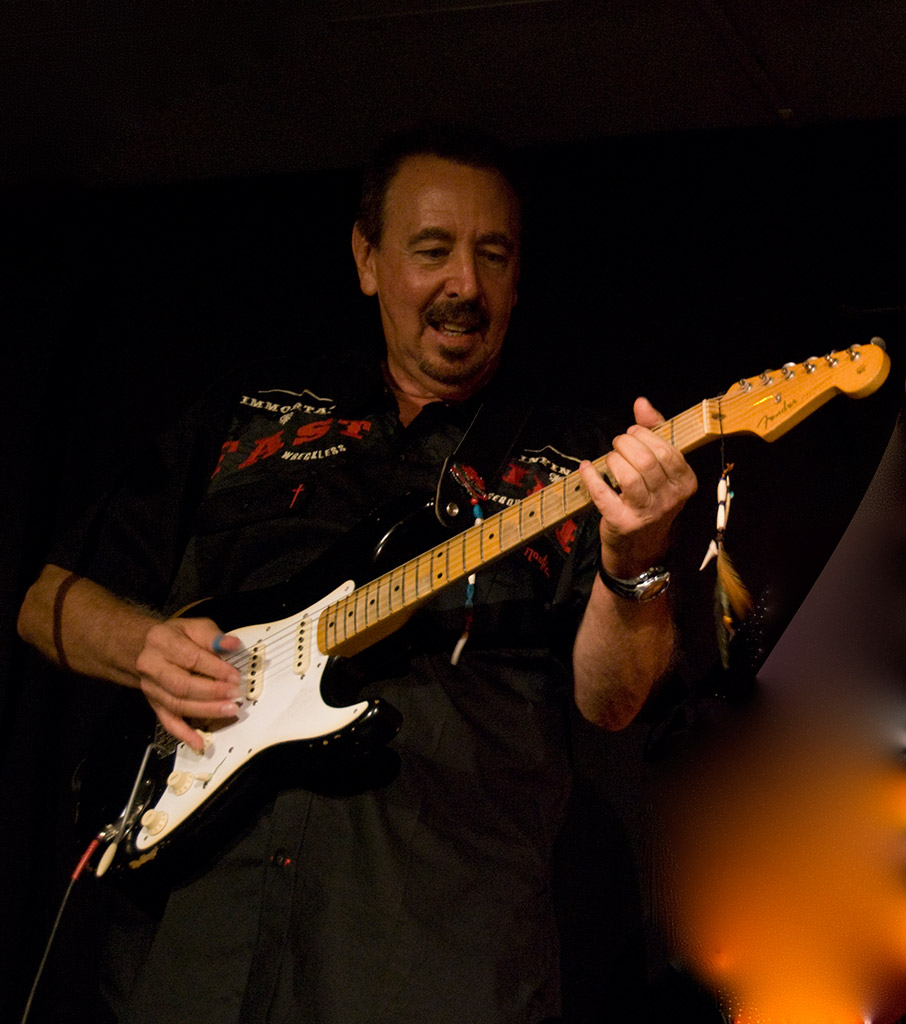 Aaron West and the Custodians
Raised in country New South Wales, Australia, Aaron West began playing guitar at age 10 after being inspired by Stevie Ray Vaughan. He was influenced by his father's record collection, especially by great blues musicians like BB King, Buddy Guy, Little Walter, Jimmy Reed and Howlin' Wolf.
He began playing music professionally during high school. After high school he was accepted into the Conservatorium of Music on both jazz guitar and jazz vocals, where he studied music theory for twelve months before leaving to take up a short-term teaching position. He has made a living from music ever since – playing thousands of gigs throughout the world, studio session work, singing jingles for TV and radio, writing and arranging etc.
He has had the privilege of meeting, playing, recording, studying, and living with some of the world's best musicians and singers. He has appeared on most major Australian television networks. His original songs have received airplay both in Australia and overseas.
After years of being a sideman musician – playing other people's music – Aaron has started leading his own band, where he can play the music that excites him; the legendary African-American styles of Soul, Blues, Funk, Jazz, Gospel, R&B etc. and especially the music of New Orleans.
Brought to you by Scenic Drums and Moogerah Passion Play