Christmas By The Lake Countdown
Christmas by the Lake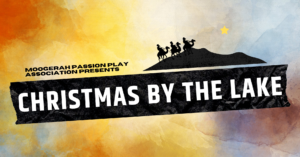 Date Claimer
Christmas by the lake 2022 will be held at Lake Theatre on 26th November.
Nativity Play
Community Carol Singing
Live Band and Solo Artists
Rides
Food and Coffee
Stalls
Come and get involved.
Rehearsals starts Oct 2022
God Bless.
Moogerah Passion Play
Casting Call !!!!
Do you want to be apart of the Passion Play 2023 Performance?
We are calling on all actors and actress (cast) and also behind the scene (crew)!
WE WANT YOU!
We request you to fill out our contact us page/facebook page or call us, so we know prior to your arrival that you are intersted
Please watch out for further updated on our social media platforms and this website for any changes.
Food is available before, during and after the performance.
Want to Join the Team?
To express your interest, simply click CONTACT page for details…
Please keep in mind that we are all volunteers, so we may not be able to return your enquiry straight away, but rest assured we will.
Moogerah Passion Play
Living Water Road, Lake Moogerah
Moogerah Passion Play
Living Water Road, Lake Moogerah