Exciting News: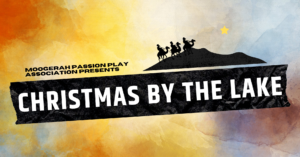 When 27th November 2021
What Time: 3pm Gate Open
Where: Lake Theater, Lake Moogerah Dam
What is this Event: Nativity Play, Carols, Children Attraction Ride, Food and etc
Cost : $10 for Adults 18+yrs, Children Free
Please stay tuned for the exciting announcement.
God Bless.
Moogerah Passion Play
Please watch out for further updated on our social media platforms and this website for any changes.
Entry is FREE!

All performances start at 5pm

Gates open at 4pm

Food is available before, during and after the performance.
Want to Join the Team?
To express your interest, simply click CONTACT page for details…
Please keep in mind that we are all volunteers, so we may not be able to return your enquiry straight away, but rest assured we will.
Moogerah Passion Play
Living Water Road, Lake Moogerah
Moogerah Passion Play
Living Water Road, Lake Moogerah